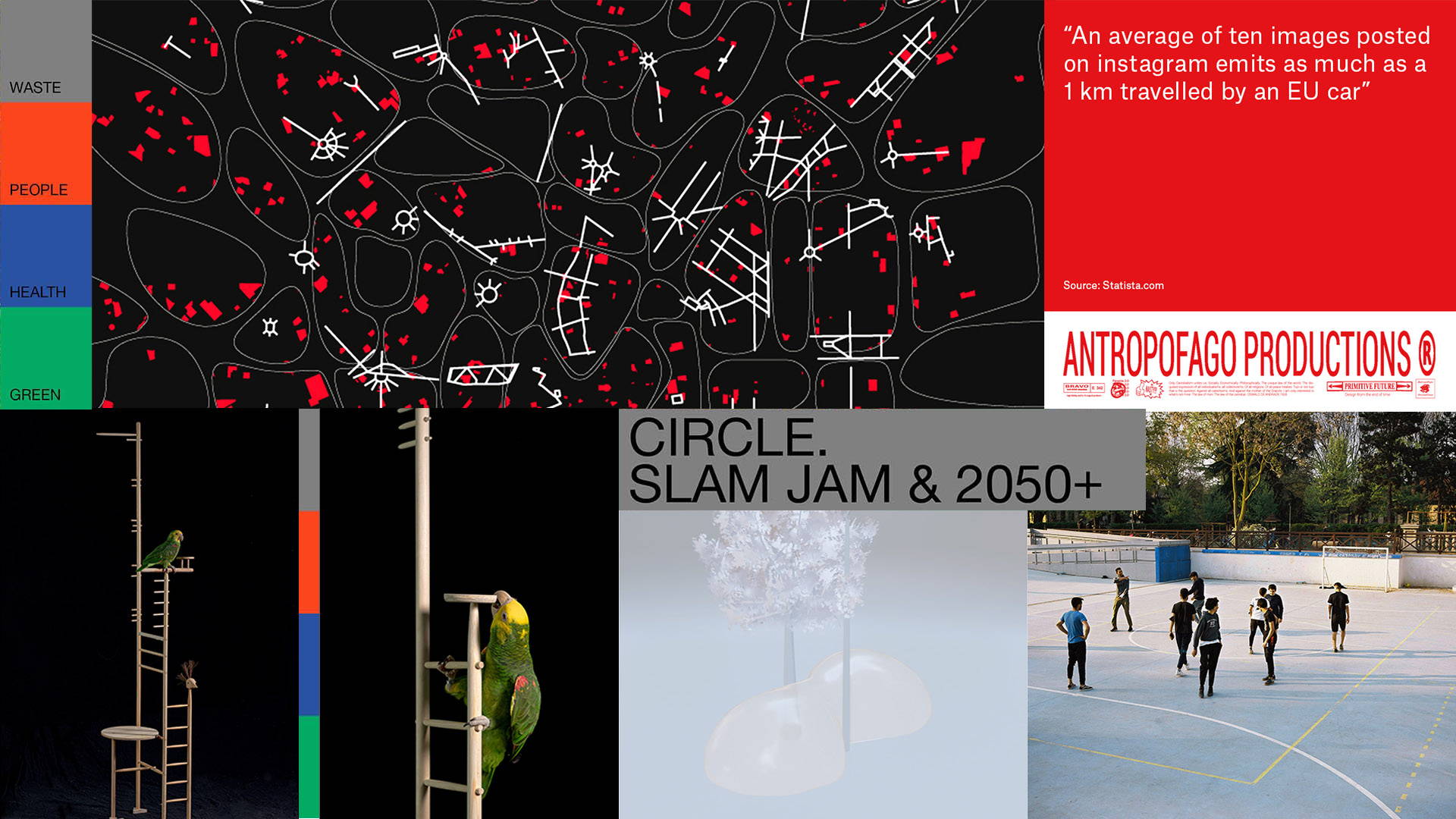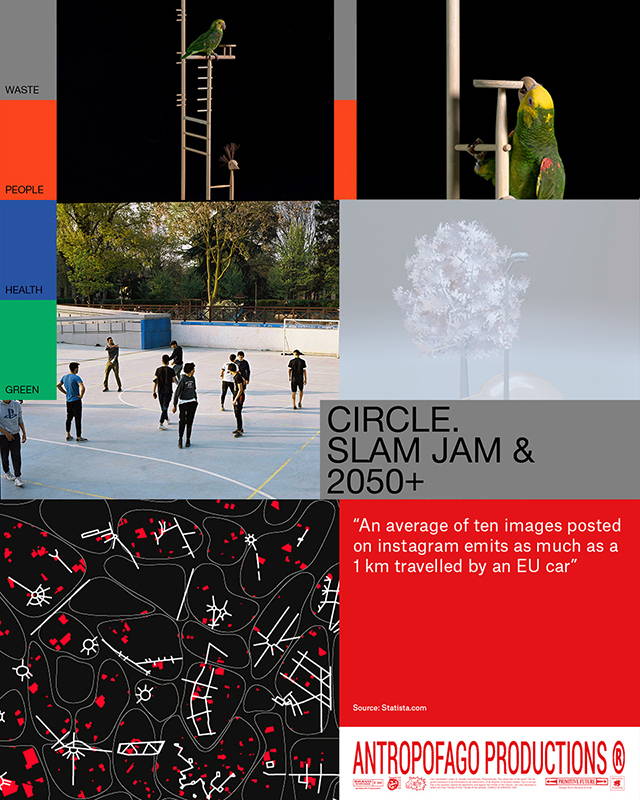 CIRCLE: April Monthly Highlights

CIRCLE is a brand new digital think-tank initiated by 2050+ and Slam Jam, with a focus on multiculturalism, spatial justice, and the changed climatic regime. This month's contributions, curated by 2050+, include: an exploration of Milan's changing social fabrics through the lens of music by LABORATORIO PERMANENTE; an Instagram filter by Francesco Tincani, the UMP (Urban Movers Pod), that addresses the need to find a shelter in urban environments; a series of furniture for humans and birds by Studio Ossidiana; the photographic series "The Kick About", by Naomi Accardi and Glauco Canalis, which looks at football as a strong social binder in the specific context of Parco dei Martiri in the North-East of Milan; and some thoughts by Antropofago Productions, an archive and community of independent artists that try to counter obsolescence in the creative field. Visit CIRCLE and raise your voice.
UMP (Urban Movers Pod) is a project by Francesco Tincani (@francescotincani) that addresses the need to carve out spaces for sheltering, replenishing, repairing, and resting in an urban environment.
"If we take a look at the prescriptions for office spaces according to planning norms, we realise that around 30% of the square meters of programmed space (i.e. disregarding distribution, tech rooms and back of house, etc) is organised for purposes collateral to the work itself, such as canteen/break room, changing rooms and toilets. Looking at the condition of movers in Milan, one cannot but wonder where these functions are programmed for those whose workplace is represented by the streets and squares that form the city. UMP (Urban Movers Pod) is an attempt to give a space and a definition to this instance. The Pod (similarly to the Movers) enacts a shifting relationship with the space of the city: it can be carried over in a backpack to anywhere it might be needed, inflated and used according to necessity. It provides space for shelter, storage, a shower, a supply of electricity, tools. Being inflatable, it can also morph into the elements that make up the city, for example taking the shape of a public bench, and can get stuck in-between things, providing for a solid anchoring to the city without leaving any trace behind its passage. It is able to adhere to the necessities of its users, by following them and setting up a makeshift workplace, or what is missing of it. Beyond the technical and operative challenges that the UMP poses, its aim is to provide a thought provoking instance in the much broader discourse around the Gig Economy and the condition of numerous inhabitants of the city."

You can read more about UMP here:
https://www.dropbox.com/s/f04wh59hz9zw652/Circle_UMP.pdf?dl=0
Voices from Centerless City

Here below is an entry by @laboratoriopermanente that speaks to Milan's urban renewal through the lens of sound. "Over the past ten years, the city with the main cathedral at the very center - where the living distance from it was the measure of your social and economic success - has changed. Back in 2009, for the first time, Milan introduced a new tool of urban planning: NIL (Nuclei di Identità Locale - Local Identity Cores). The NIL atlas we drew mapped a completely new image of the center-less city: there is no downtown, there are no outskirts. Milan is a constellation of 88 neighborhoods, a mosaic of small cultural hubs where diversity is what defines the essence of the metropolis. This new vision gave voice to the different communities not represented by the city of the single centrality. New Italians, women's groups, LGBTQIA+, and many more were able to gain visibility and success by celebrating their marginality. Ten years later, the strong identity of each district is proudly told by Milanese underground artists. Trappers, Rappers and Pop Stars, grown up in different areas of the city, focus their narrative on neighborhood life. Nowadays, the diversity of their backgrounds defines the panorama of the Italian artistic vanguard.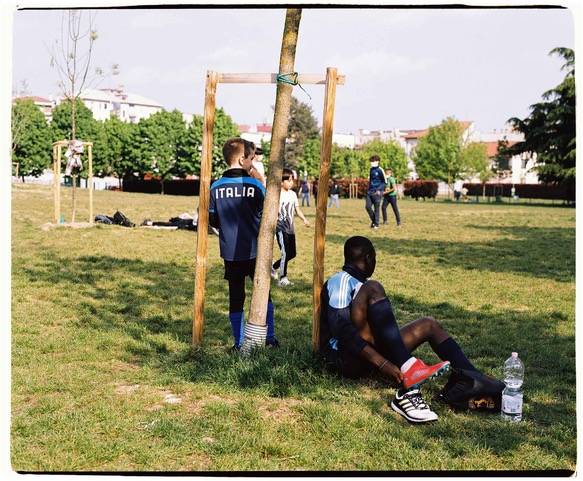 This week's entry for Circle, "The Kick About", zooms in on Parco dei Martiri, in the North-East of Milan. With words by Naomi Accardi and photos by Glauco Canalis, the project looks at football as a strong social binder, which thrives in the face of the harsh lockdowns of these past months.
«One year and something into the pandemic that stripped us all of our ability to interact, move and occupy space freely... it seems like spring has finally sprung over the somber city of Milan. As flowers blossom and the first feeble rays of sun filter through the translucent clouds veiling the pale, polluted sky teasing summer-like weather, residents of all ages can be found looking for solace and banter at their local park. From running, to rhythmic dances and coordinated power works outs, people can be seen reclaiming public spaces and appropriating green areas as the leisure escapes they were originally designed to be.
A predominant common denominator in the interaction between human and public space is football, the game of the people. The beautiful game has in fact suffered major losses at grassroots level due to the social distancing rules policed by the government and the inability to aggregate and play contact sports.
Football academies and recreational centers were forced to close down with no clear intel on the chance of re-opening, pushing kids to get out in the streets and counter the governmental rulings. A phenomenon foreign to a city like Milan where team sports are usually experienced at structured facilities with intricate hierarchies, rolodexes and fixed schedules.
The Oratorio (the recreational center annexed to the local parish), another staple within the football youth of Milan, was also compelled to interrupt all activities, leaving kids with no after school destination. As a consequence, people started mixing and mingling, recreating the cheerful atmosphere of a stadium in the open spaces that their city offers them. All of a sudden, age ranks, glam uniforms or talent don't matter anymore. Football is back to its roots, the street.»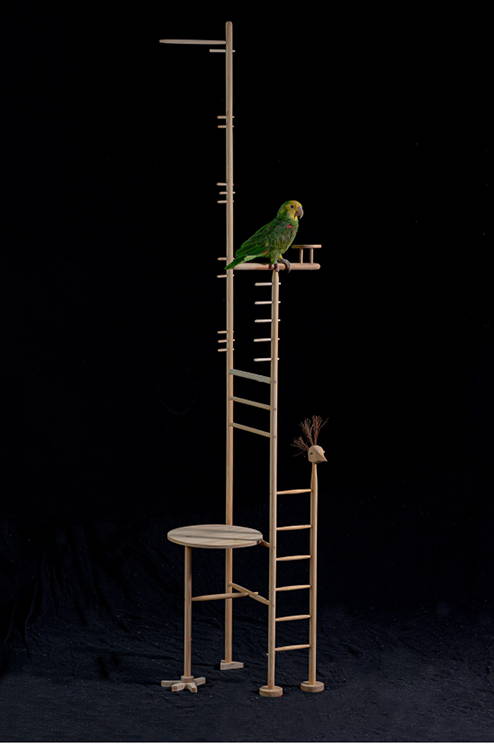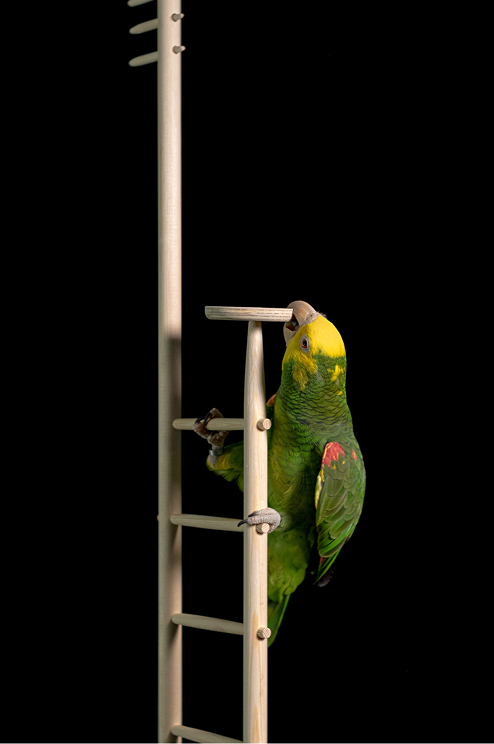 Furniture for Humans and Birds

"Furniture for humans and birds" is a project by Studio Ossidiana, an architecure, design and research practice led by Alessandra Covini and Giovanni Bellotti. Photos by Riccardo de Vecchi.
*«In the past year of lockdown, Alessandra and I found ourselves working from our studio in Rotterdam, without our team, with the only company of our parrot Coco, a two years old Amazona Oratrix from Rijswijk. We had more time than ever to spend with him, and he enjoyed flying freely in the studio during work hours, perching on our chairs, mischievously playing with project models - probably picturing himself as a feathered dinosaur, attacking miniature buildings while we were distracted.
*Using profiles of Douglas Fir and left over plywood boards, we built hybrids between perches and benches, chairs and bird feeders. All are variations on traditional Windsor furniture, playing on the style's adaptability and simple detailing, rethought in order to accommodate a Parrot, along with his Human companion.
*Over time, we made: A Throne for Humans and Birds, part perch, part chair, part bird, to accommodate a parrot on its tallest "branches", hosting his featherless companion below; A Bench for humans and Birds, with space for play, and bowls for food and water; A Perched Chair, for birds and humans to sit and perch, shoulder to shoulder.
*As design commissions slowed their pace during the lockdown, while interviews and online workshops became more frequent, pictures of the furniture were included in publications about our studio, often starring Coco, who, unaware of his minor-celebrity status, continues to bite his way through our work.»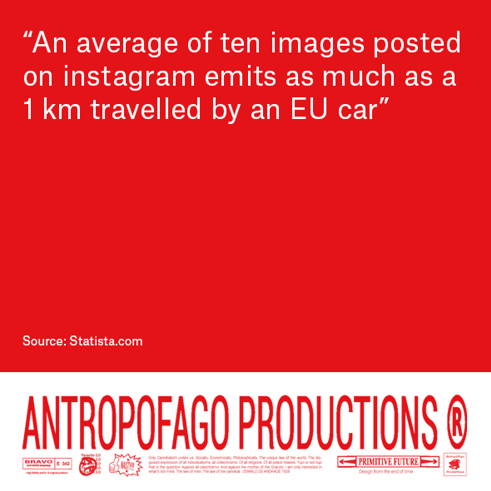 Today more than ever, artists, musicians, and designers rely on social media as a way to increase their exposure. Sometimes this has seen as the only way to build a business network, and enter the professional and creative industry. This is also a way to escape a never-ending journey into unpaid internships or low-paid jobs. The huge amount of content shared online trying to build your own career, as side effects: first, the carbon emission connected to it. Second the spread of images that become trends and homogenize aesthetics and taste. Third, once a project is reduced to an image, almost all the time loses its significance and gets lost in archives or dusty corners of an artist's studio. Taking inspiration from the independent platform for musician Bandcamp, Antropofago Productions is an archive, a community, and an online shop. Composed of a selection of lost ideas, objects, and sounds from a wide range of personalities around the world, Antropofago Productions is a parallel market for independent and emergent artists. The community is also involved in a broader discussion through a series of podcasts and radio shows, exploring topics as such the over-production of contents, the impact of new marketing strategies into the creative industries, and the struggles for young practitioners to access the labor market.