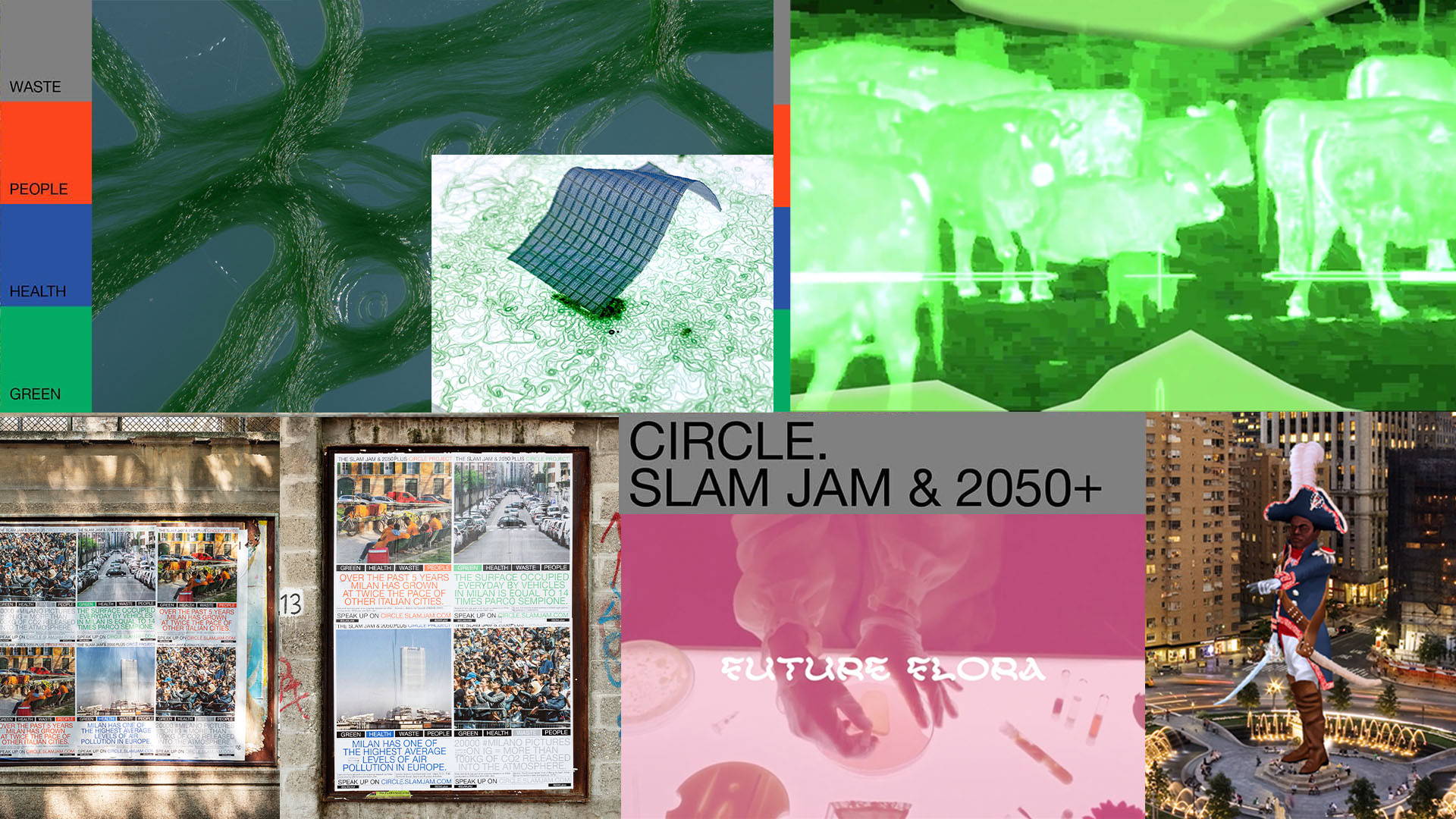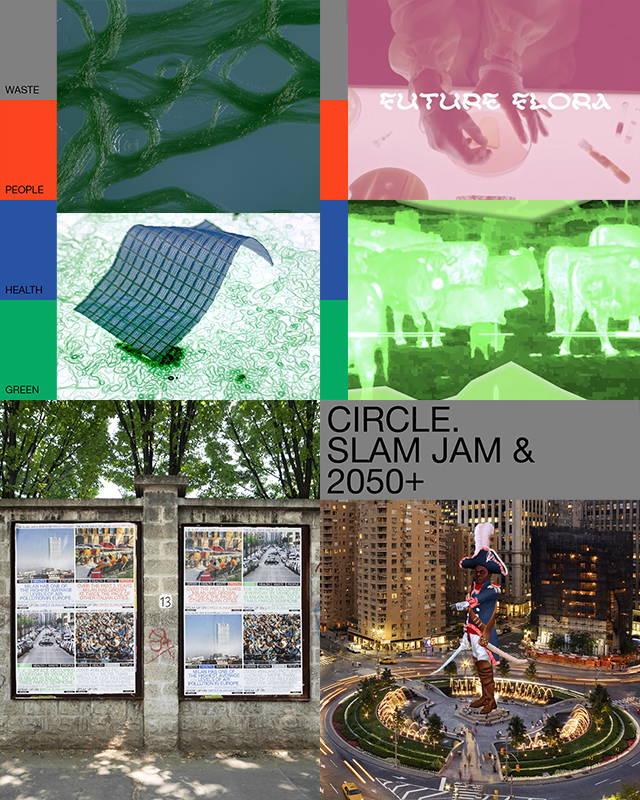 CIRCLE: JUNE MONTHLY HIGHLIGHTS
CIRCLE is an ongoing think-tank initiated by 2050+ and Slam Jam, that looks at Milan as a concentrate of contemporary and future challenges such as climate change, migration, mass tourism, urban development, just to name a few – hence, as an ideal blueprint to investigate planetary conditions.
June's best entries, curated by 2050+, include: "Coded Biophilia" by interaction designer Giulia Tomasello, a project that looks into harvesting bacteria at home as a tool to improve female intimate care; "Low-wage blues", a contemporary ballad by Frankeeno, a rapper that mixes video, music, and spoken poetry to sing the struggle of today's underpaid workers; "Algear" by fashion designer Randa Kherba, a prototype for a textile fiber based on microalgae that could provide an alternative to construct outdoor gear; an "Kinfolk" by digital activist Glenn Cantave, a mobile app that serves as a centralised archive for underrepresented Black and Brown historical narratives. Visit CIRCLE and raise your voice.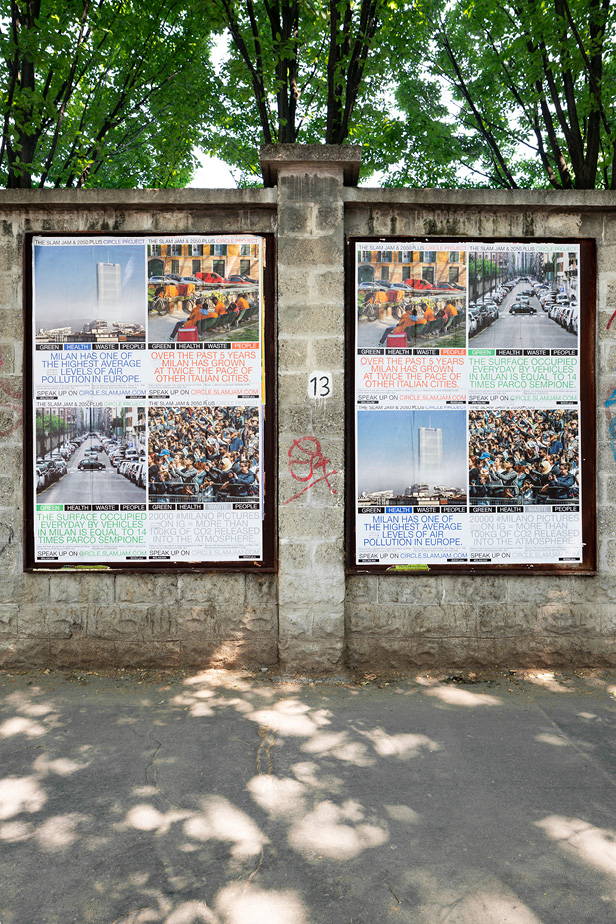 CIRCLE challenges the formats of engagement with the urban environment and of dissemination of relevant and timely information. The most recent, tangible materialization of this ambition are four posters which were spread across Milan during the last two weeks of June. Trying to re-calibrate the focus of communication around sustainability and inclusiveness, the posters offered punctual insights into the social, cultural, environmental, economical fabrics of Milan, providing a matter-of-fact counterpoint to the deceptive lure of sensationalism, greenwashing and tokenism.
Directed by Giulia Tomasello, Soundtrack 'Enjoy the Void' by Emme
"Coded Biophilia" by interaction designer Giulia Tomasello looks at women's healthcare through a DIYbio (Do It Yourself Biology) lens.
«When designing 'Future Flora' in 2016, I imagined a future where women were able to harvest bacteria at home in order to prevent vaginal infections, thus becoming participants in the knowledge and culture of science. In this imagined future women are completely in charge of their own bodies.»
Giulia is co-founder at ALMA, an initiative that combines design, technology and anthropology to co-create tools for a radical cultural change in female intimate care.
Together with a global online community, they are building a safe and inclusive digital space where people can share their personal experiences and knowledge around female intimate care, find relevant resources on the topic and have a possibility to consult with specialists. They have just created a survey to co-design the Atlas of Experiences and capture what it means to have a female body. Access the survey by clicking here.
@frankeeno_original
Low-wage blues is an experimental short movie mixing video, music, and spoken poetry. At the center of the plot, is the struggle of an enormous amount of low-wage workers. What could be defined as a new social class trapped in a condition of insecure employment, is a new vulnerable subject in front of a pervert machine of the new precarious jobs. Tech companies have exploited this space, creating a series of app-based unstable and low-paid jobs. Occupations such as warehouseman, deliveryman, taxi driver, or housekeeper, over the search for the just-one-click-away lower prices, are today exploited and deprived of their rights.
The characters of the movies can be seen as the new "I Vinti" (The Vanished) from Giovanni Verga. The Italian writer has spent part of his life writing about the daily struggle of different social classes. In "I Malavoglia" ( Literally translated as "The Reluctants" but published in English under the name "The House by the Medlar-Tree ) Verga depicted the lives of low-wage workers at his time, a family of Sicilian fishermen.
For Verga, "I vinti" are the ones smashed by a "machine of superstition". This machine is the struggle to survive, which pushed the characters into a life-risking job. "I Vinti" is Verga's attack on this machine, in his incapability of confronting modernity. In his novels, modernity seems to appear as utterly immoral as 'the age of absolute sinfulness', against which "traditional rural communities at Italy's Southern margins stood like many besieged sanctuaries of value." His characters suffer the arrival of modernity, as an oppressive burden.
In our story, the "machine of superstition" is an algorithmic evil app, observing us from the top. The "traditional rural communities", are the second character of the story, a new tribe of forced perpetual travelers without frontiers. The algorithm machine is interpreted in our movie by a series of 3D models, interacting autonomously with videos, music, and words. The 3D animations represent in our story the unpredictable machine driving the life of the low-wage population. At the same time, creates a parody of the glorification and marketization of smart and interconnected life, the new tech-neoliberal ideology.
The work mix popular languages of social media culture, like video content, sounds, and rap, to look at the intimate stories of fictional characters trapped in the aforementioned condition. A series of stats, data, samples, and quotes, is opposed to the intimacy of ordinary lives and their stories.
The final result is a hybrid short movie.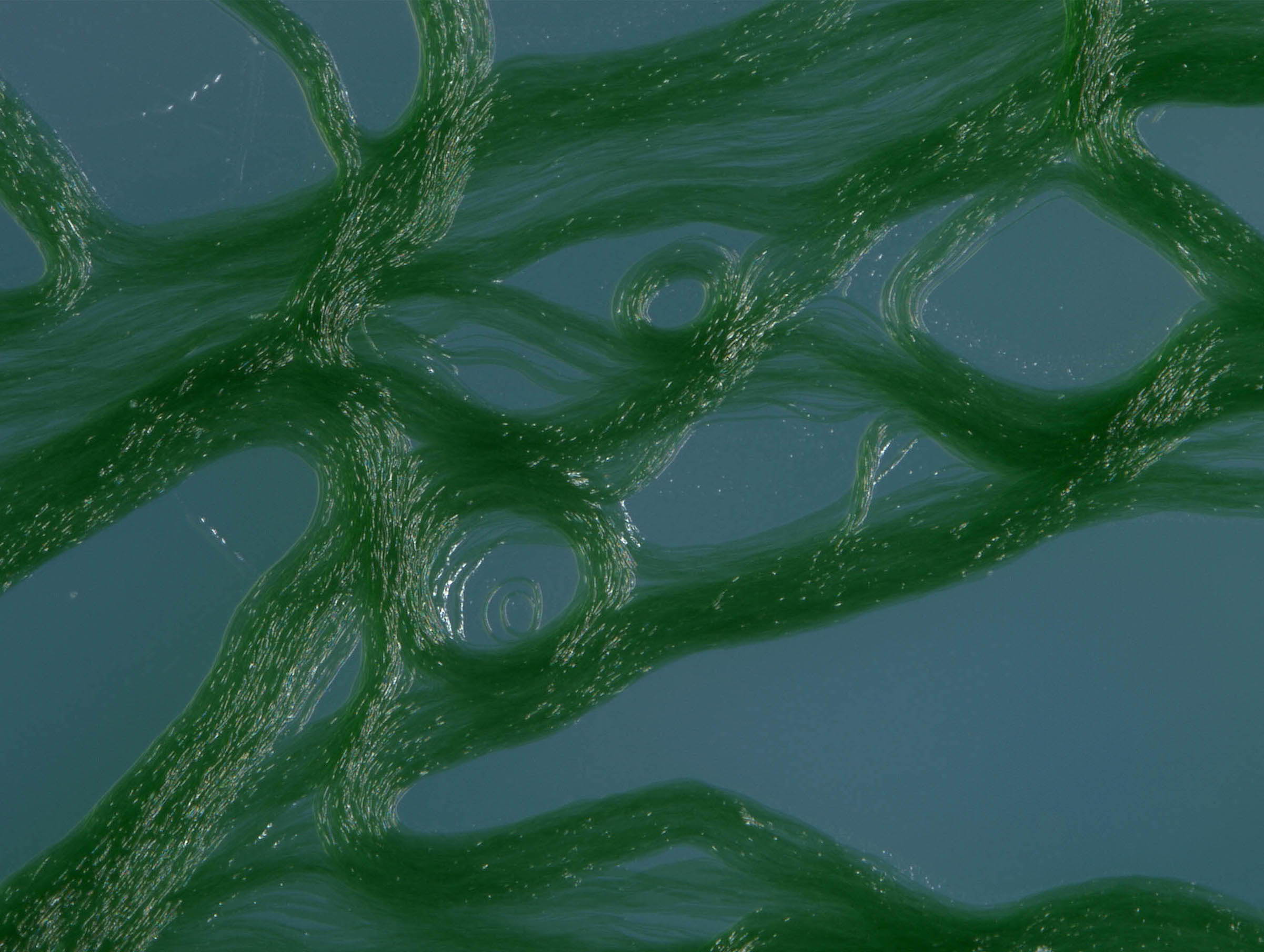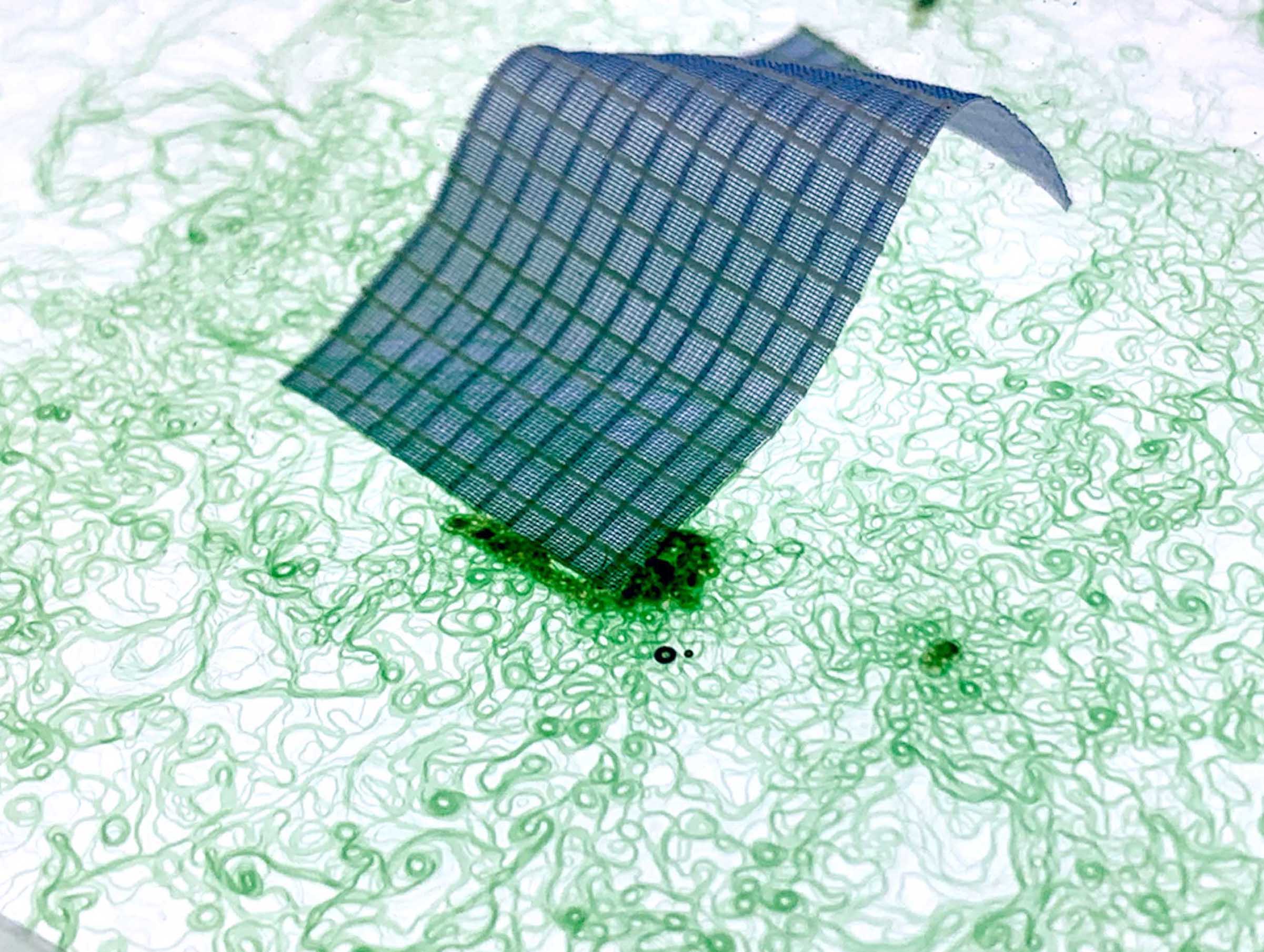 ALGEAR a bio-alternative to Constructing Outdoor Gear
Randa Kherba (@randa2.5d)
The advent of synthetic materials such as polyurethane and Gore-tex has democratised access to extreme climates. Human interactions with these climates are temporary experiences, lasting days to weeks, but they have lasting repercussions for the landscape left behind. Waste is a complex issue on the mountains, where climbers frequently leave behind their gear to avoid carrying any extra weight for a safer descent. There is a need to design gear specifically for short-term use: made from nature, to be experienced in nature.
Purely by existing, we consume energy in the natural environment. The point of Algear is to highlight a move away from the mainstream notion of brutal energy extraction and move towards a mindful form of consumption. The ability to cultivate micro-algae allows for a sustainable form of extraction.
This project harnesses the organic growth assembly of cyanobacteria, a blue-green algae which is among the oldest known phototropic organisms. Their photosynthetic abilities and adaptiveness to stressful conditions offer potential for a material that can endure the shifting/changing climates. Their simple cell structure allows the species to grow at a fast rate, making them almost infinitely renewable.
Algear proposes a future where outdoor gear that protects us from the elements can be created and produced with elements that are abundant to us or with what is left from the past. This project contributes to the importance of the leave-no-trace code, through growing a material that naturally biodegrades and nourishes the land in the process, allowing for the conservation of an ecological future through our transient adventures outdoors.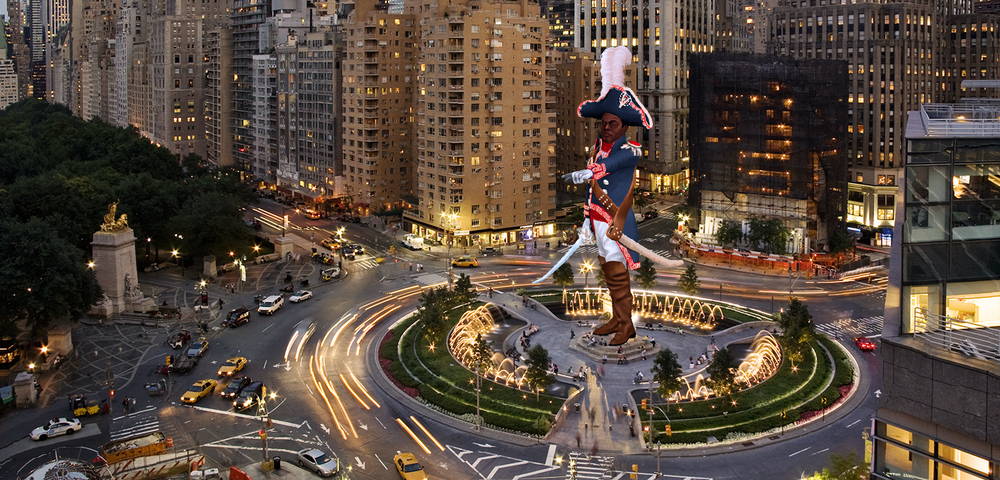 Glenn Cantave (@moveranshakernyc)
Movers & Shakers has developed Kinfolk, a mobile app that serves as a centralised archive for underrepresented Black and Brown historical narratives. «We have assembled a team of researchers, historians, and storytellers to curate existing information from disparate historical archives. Our team is doing the legwork to bring it into one place. Now, we can share the stories that our history books have erased and altered. We can bring them to life in full color with augmented reality and deliver this knowledge to anyone with a smartphone and an internet connection. Kinfolk was designed to circumvent the political red tape that exists around removing and erecting new monuments. The beauty of augmented reality is that we don't need permission to honor these figures. We can just do it. Each icon will have an augmented reality monument that anyone can digitally place anywhere through a mobile phone or tablet. Kinfolk will empower both students and casual learners to delve deeper into an underrepresented figure's story, make connections on historic events that happened during their lifetime.»