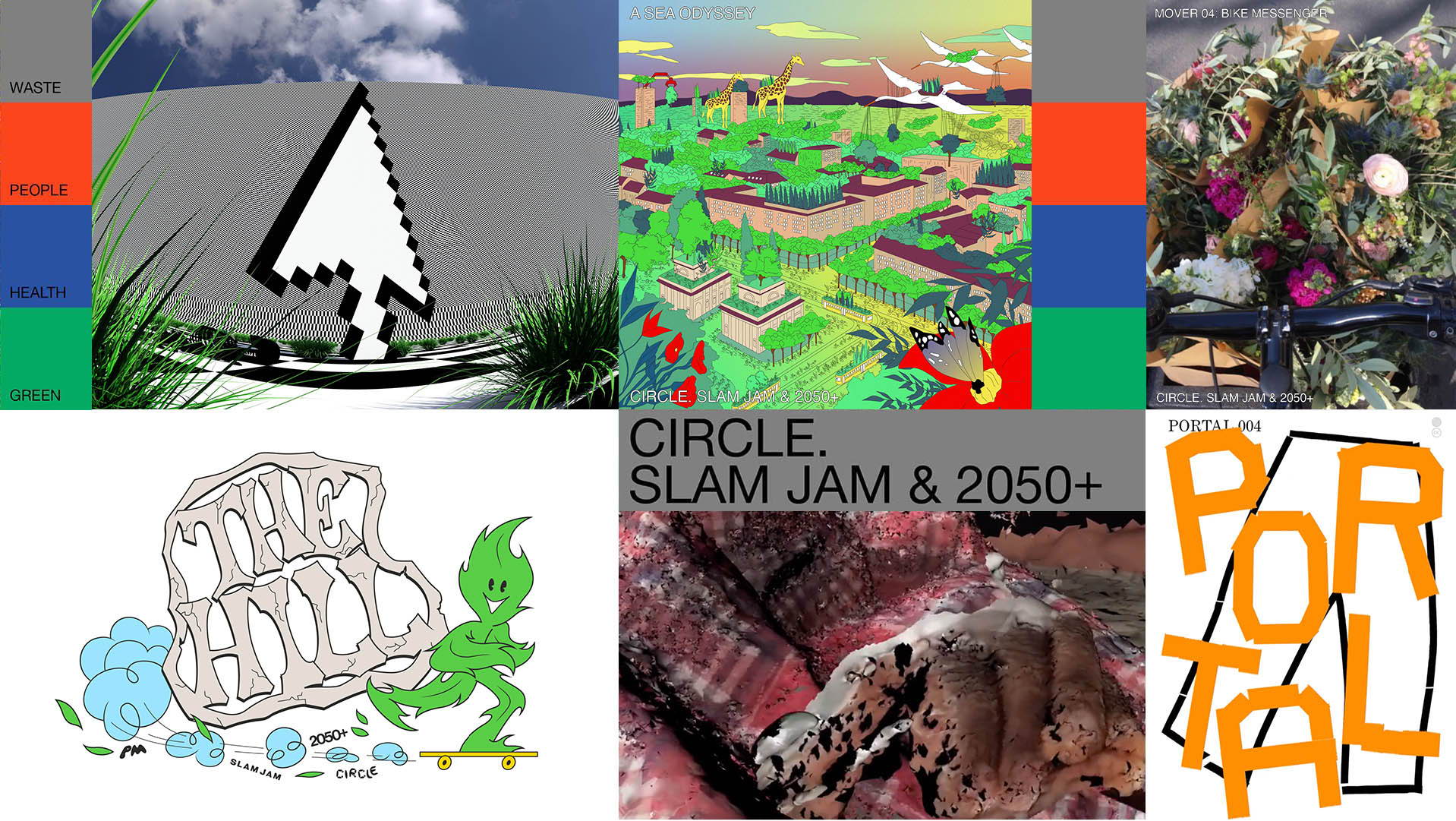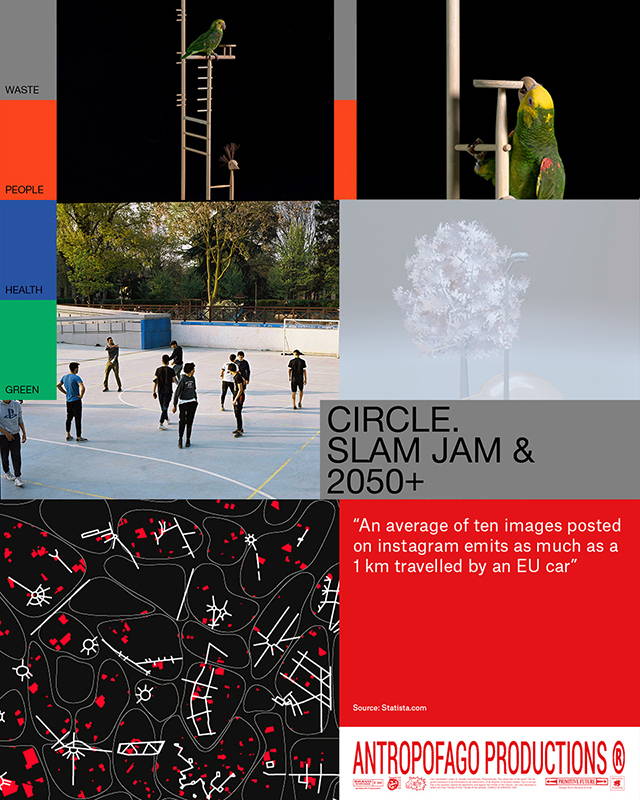 CIRCLE: March Monthly Highlights

CIRCLE is a brand new digital think-tank initiated by 2050.plus and Slam Jam, with a focus on multiculturalism, spatial justice, and the changed climatic regime. This month's contributions, curated by 2050.plus, include: a homekit version of the project PORTALl by fashion designer Elisa van Joolen; a series of illustrations by the collective 2100: a sea odyssey; a video essay by artist Ibiye Camp; some thoughts on Cryptoart; a focus on bike messenger Emma Missale; and a proposal for an urban installation by graphic designer and illustrator Pietro Mazza. Visit CIRCLE and raise your voice.
What follows is a selection of extracts from PORTAL 004, the fourth edition of an ongoing research project by Dutch / Italian designer Elisa van Joolen @elisavanjoolen that explores the economic, social and emotional value of clothing and offers a 'way in' to understanding garments from a multitude of overlapping and intersecting perspectives.
"What are the social and economic structures in which seemingly ordinary designs are created? Which values are central in the fashion industry, and which do we, as designers, consumers and critics, ignore? Are you also curious? You can start by studying a clothing item from your own wardrobe. Download PORTAL 004 | Exercise and coloring book* here:
drive.google.com/file/d/1FpE45Exy3PO4g5GeDtulrXKFdOZS7EqO/view?usp=sharing
PORTAL 004 is the result of a workshop in which children from public primary school OBS Twiske in Amsterdam investigated the different values of clothing. In this book, which is based on the questions and outcomes of this workshop, children can actively learn more about their clothing and the different values attached to it. In this way they become more aware of how to deal with the value of clothing.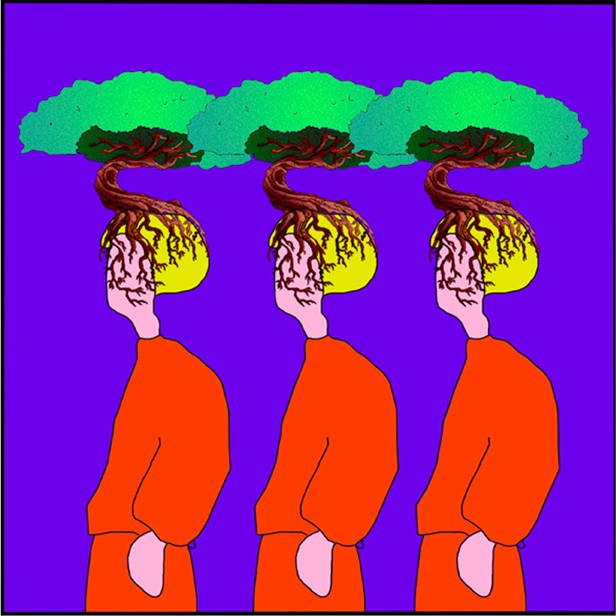 These illustrations belong to the speculative series @2100aseaodyssey, a research project by Monica Moschini, Alessandra Paparcone and Francesca Porro.
"Milan is green, but not enough. There is a lower presence of green areas and trees in the Milan Metropolitan area than in other major European cities. For example, the ratio of trees per inhabitant is 1 to 3 (Ennio Nonni, URBIT Lorenza Baroncelli, Triennale di Milano, 2020).
The scarcity of green and permeable areas does not allow to carry out an effective climate mitigation action. Milan is suffering from an increase of temperature, which in extreme cases involves a difference of up to about 6 ° C between the city center and the periphery, especially in the Summer and at night. Reforestation is the first tool needed to stabilize global temperature, to protect and enhance biodiversity and to improve air quality. If we allow nature to enter inside our cities the benefits on our lives will be immense, in terms of both physical and psychological health.
Implementing reforestation projects does not only mean increasing green areas and nature in urban areas, but it is an invitation to conceive of these transformations as opportunities for a new way of thinking and living the city. A radical change is necessary: humans have to accept the symbiotic relationship that exists between man and nature.
2100 firstly illustrates the need to look at nature in the city with different eyes, and proposes to increase the presence of nature in Milan by utilizing urban voids, roofs, buildings and streets. Even buses and trams could carry small forests on the top. Different transepts of landscape will occupy green islands inside the city, but these landscapes will also move through the new green links that will cross the city. Making places livable not only for humans, but also for nature would allow us to reach the presence of 1.5 million trees in the city, which in 2030 would be equal to the number of inhabitants of the city".
Unrolling and Unfolding Algorithm

Unrolling and Unfolding Algorithm is a video essay and research project by artist Ibiye Camp (@ibiye_ camp) "Many cloths such as Ghanaian Kente and Southern Nigerian Injuri and George all hold formulas in the looping of patterns binary code.
Kalabari craft-woman transforms imported cloth by pulling threads to create and geometric texture. Treated cloth like this is called Injuri. Today the process of abstracting thread is applied by machine before it is imported to Nigeria, erasing the creative input of the craft-woman.
Dutch Wax Print is mass-produced and is an impression of African textile. It is the result of complex globalisation processes which has had a crippling effect on the domestic African textiles manufacturing industry."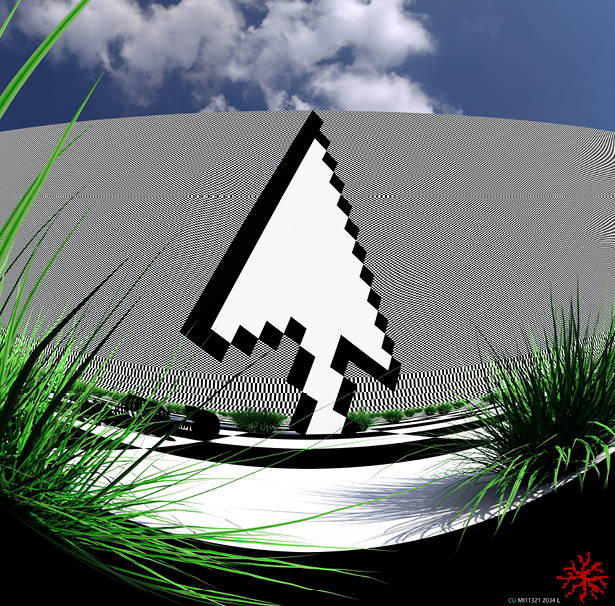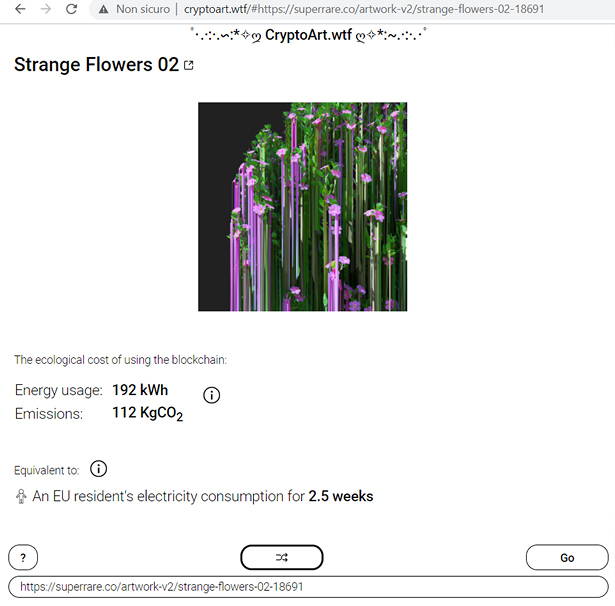 As most of us from Club Universo are designers, we inevitably became interested in the dynamics of the Cryptoart world. It would seem as if artists and designers have finally found their golden goose. For those who are not aware, Cryptoart is a category of art related to blockchain technology where one can sell their digital works, sometimes even for hundreds of thousands of dollars in crypto currency. As artists and designers we can not but be intrigued by this opportunity as it allows cratives to earn more than ever before while simultaneously expanding the horizon of the art world; even though it would seem that from an environmental standpoint Cryptoart isn't really sustainable. Our goal with this post is to shed light on this new phenomenon, promoting a critical research that would be beneficial to both the art world and the environment. We believe that it is very important, especially in this initial phase, to not be taken over by the speculative opportunity that this newly emerged market has but observe it as a whole, keeping close attention on its environmental impact. For example, the simple act of buying one of these arts pieces (NTF art) consumes on average 250kWh and has an emissione of 155KgCO2, which is equivalent to using Netflix 24/7 for six months. "When designing and developing new systems, platforms and habits, design and develop them compliant with the standards and expectations of the time! 130 kWh, 80 KgCO2 for a single mouse click to mint a single-edition NFT is ridiculous and unethical."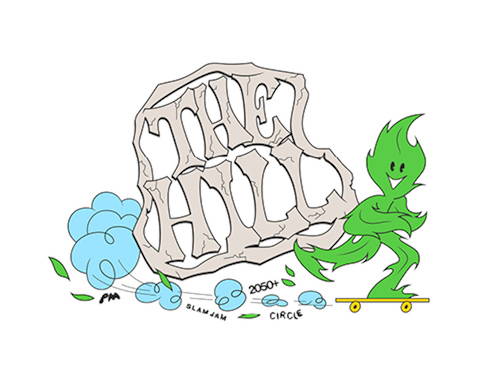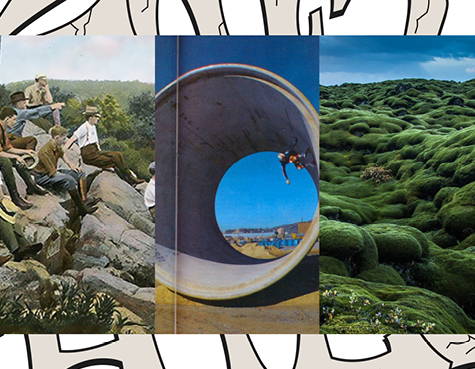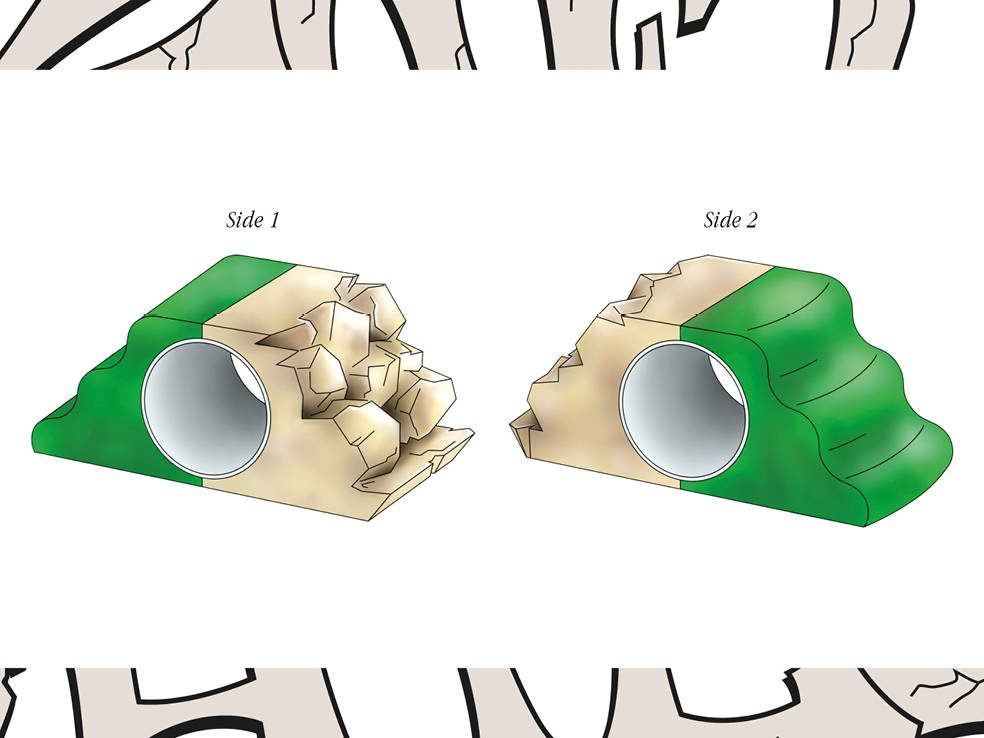 THE HILL is a proposal for an urban installation by Milan-based graphic designer and illustrator Pietro Mazza (@p_mazza). Primarily conceived for skateboarding, the project is a platform to host urban performances. Depending on its size, it can accommodate people across generations, from skaters to kids. At its core, it's a space for encounters: a gathering venue, a place for chilling. In its design, THE HILL is inspired by pop culture. It borrows from the typical elements of non-urban environments (rocks, hills, moss), as well as from the suburbs (pipes, abandoned warehouses, graffiti). The core structure is basic, which allows THE HILL to adapt to different conditions and contexts. If made of concrete, it turns into a skatepark; while softer materials are ideal for kids that can use it as a spongy playground. When rocks and grass are applied on its surface, THE HILL becomes a public installation for people to climb on, to lie on, to play with: something that connects people to elements that usually are excluded from urban environments.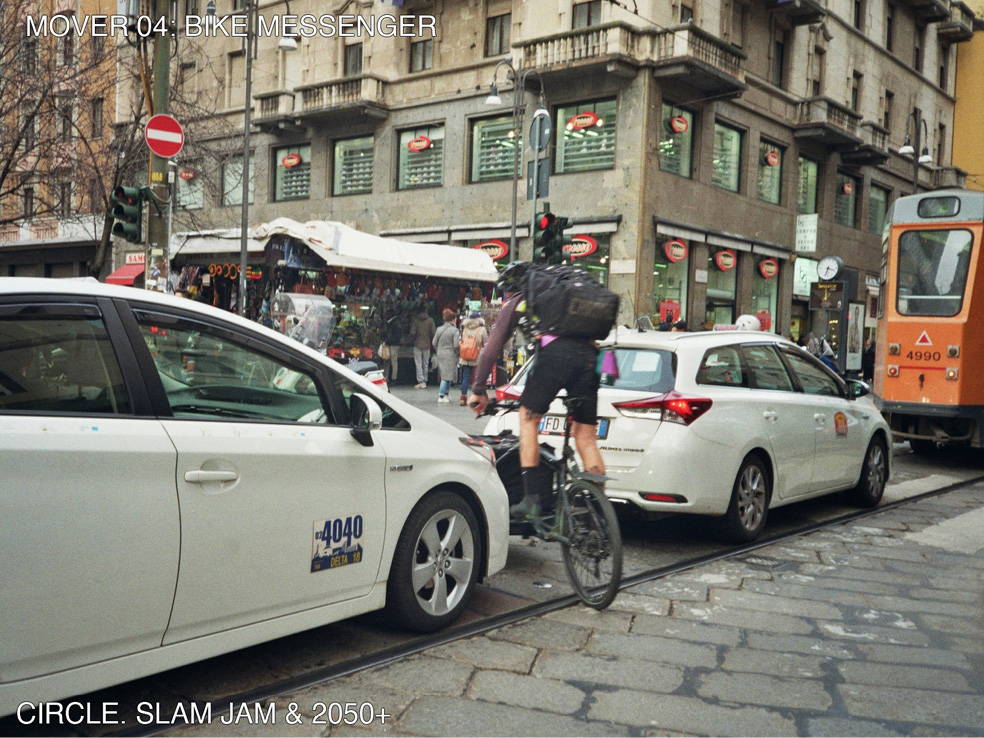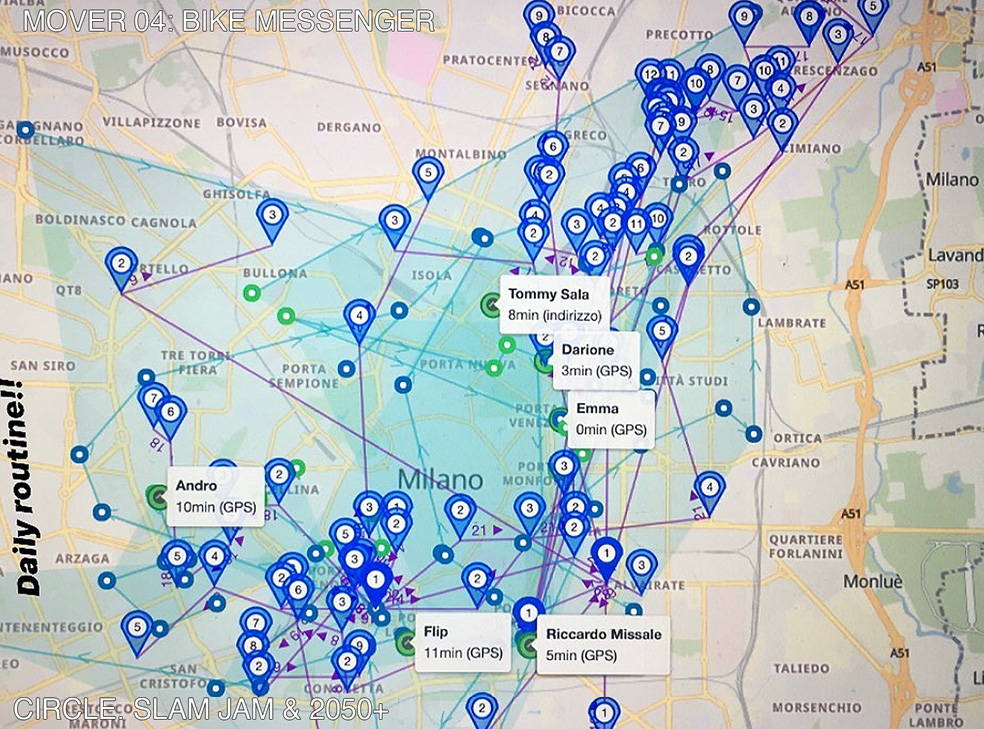 In Milan, bike delivery is certainly the fasted way to move parcels across the city, while also being the most convenient and environmentally friendly one.
Can we imagine a scenario in which we break down the energy consumption for data transmission by entrusting bike messengers with the delivery of large quantity of digital data ? This would free us from relying solely on fibre connections and other high energy-consuming infrastructures that currently keep our digital lives afloat.
Can we push this speculation further, and imagine new models of data permaculture that rely on the unstable course of the sun and the winds for energy supply? Can we accept to harvest and transfer data only when resources are available?
«On average, we delivery 80 packages in one morning, which amounts to 50 km by bike.» Emma Missale, bike messenge